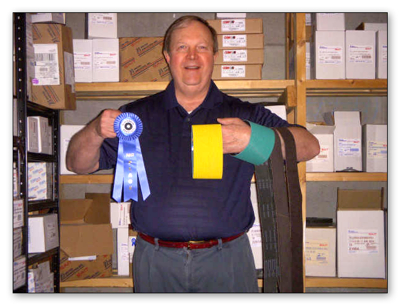 Need a hard-to-find item? We make ANY size. We ship the
same day from stock...or have it custom made and shipped fast.
Tom King, General Manager
Sanding Belts
"I needed an odd size belt. Tom at Blue Ribbon Abrasives came through with a great quality belt. I got it quick and at a very low price!"
William W.
St. Louis, Missouri
Blue Ribbon Abrasives is a very reliable source for quality abrasive belts and discs. The fast delivery and excellent pricing make Blue Ribbon my choice as a supplier.
Gene T.
Amery, Wisconsin

I choose Blue Ribbon Abrasives because of the quality specialty products and friendly service. I get the right product for my special applications.
Marty F.
Omaha, Nebraska
Blue Ribbon Abrasives is an authorized distributor of major manufacturers of abrasive products. For specific product information, you may want to view the online catalogs of the following manufacturers:
Blue Ribbon Abrasives is a leading distributor of siastar system®, the revolutionary new quick adapter grinding and sanding system from sia Abrasives, the third largest manufacturer of abrasives in the world. Please click here for more details.
Here is what our customers find at Blue Ribbon Abrasives
We stock and supply only the best quality for the professional fabricator and offer the lowest prices...and ship most orders the same day.
You will like doing business with us—all of our employees have experience working in shops!
Ordering is easy. Call NOW! 800-760-6939
Sanding Belts
ANY size
Aluminum oxide, zirc, ceramic, silicon carbide
For sanding all steels, wood, glass, stone, and marble
All grits
Fastest delivery in the industry
Low prices
Saw Blades
Bandsaw
Portabands
Reciprocating
Resin Fiber Discs
Aluminum Oxide
Zirconia
Ceramic
Silicon Cardide
Carbide Burrs
Made in USA
Best price
Single & double cut
Specials and coated
Flap Discs
Standard 4-1/2" x 7/8"
24, 36, 40, 50, 60, 80, 120 grit
As low as $3.70 each

Jumbo 4-1/2" x 7/8"
Our Jumbos are the thickest in the industry! There is a difference!
24, 36, 40, 50, 60, 80, 120 grit
As low as $4.70 each

Our flap discs are sold in boxes of 10 and come in either angled face type 29 or flat face type 27. We also carry 4", 5", 6", and 7" flap discs in standard and jumbo. Also available with 5/8-11 hub.

Depressed Center Grinding Wheels
4-1/2" x 1/4" x 7/8" aluminum oxide
Made in the USA (best choice): $1.89 each
Import from Europe: $1.44 each
Import from China: $1.00 each

Starrett "Unique" Tooth Portabands - Bimetal
The "Unique" tooth set is the latest innovation from Starrett. You will like these blades!
$5.25 each (3 per sleeve)
$4.75 for 50 or more

Pick up the phone. We answer promptly and are ready to help solve any abrasives problem. Call 1-800-760-6939.

Blue Ribbon Abrasives is a 25-year old "full line" industrial supply distributor specializing in abrasives. Our products are distributed nationwide to metal fabrication shops, foundries, metal polishers, woodworking shops, manufacturers, and many others.

We are seldom undersold. Our customers keep coming back to us because they save money. They know that we offer them the fastest service at the best price and the best quality.

Please send us a quote request to see for yourself what our hundreds of satisfied customers know: you will be delighted with the price and thrilled with the service. Or give us a call toll-free at 1-800-760-6939. We'd be happy to chat with you about your tool supply needs even if you do not intend to purchase at this time—no obligation, no hard selling.


Terms and Conditions
No minimum dollar requirement. Minimum order is one box.
Payment terms of 2% 10 days, net 30.
New accounts may be opened subject to credit approval.
Qualifying orders will be shipped prepaid otherwise F.O.B. our warehouse in Minneapolis, Minnesota.
Returns must have a return authorization obtained from our customer service department.
We accept VISA, MasterCard, and Discover.
| | | |
| --- | --- | --- |
| | | |