5732 Humboldt Avenue North • Brooklyn Center, MN 55430
800-760-6939 • 763-560-2582 • Fax 763-560-2678
info@blueribbonabrasives.com

"Blue Ribbon" Quality • "Blue Ribbon" Service
800-760-6939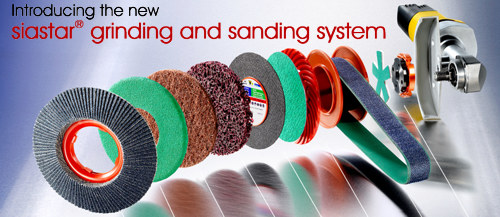 Blue Ribbon Abrasives is proud to be one of the first distributors to offer the revolutionary new siastar® grinding and sanding system. Please call to find out how these revolutionary tools can make your job easier while saving you time. And we make them fit your budget, too! Call 1-800-760-6939 today!
We love this system and have found it to be particularly beneficial for working with aluminum and stainless steel. We have great prices on the individual tools and are offering a special price of $279.95 on the siastar® kit (grinder not included). Compare elsewhere at $425! This kit contains the entire siastar system in a box, always at your fingertips, providing optimum protection of machine and tools.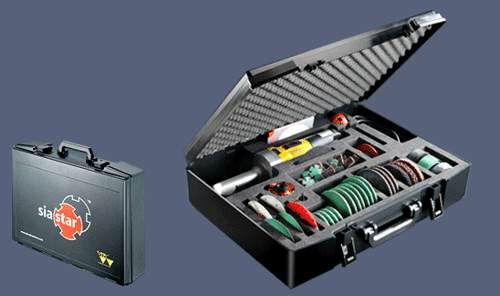 What is siastar®?
siastar® system is the name of a set of innovative grinding and sanding tools recently introduced by the third largest manufacturer of abrasives in the world, sia Abrasives. sia Abrasives is known for producing the highest quality tools available.
Why do I want siastar®?
The center piece of the siastar system is the quick release adapter which fits any conventional angle or straight grinder. Using the adapter, you can change tools in seconds rather than minutes. That not only saves you valuable time, it allows you to concentrate on the work at hand without the interruption of removing nuts, tightening, and all the other steps normally involved in changing tools. For more information about the siastar system, visit the sia Abrasives website at www.siastar.com/en/
What tools are available with siastar®?
Eight high-quality, time-saving tools can be attached to the quick release adapter:
Flap

Rough grinding
Deburring
Dressing of welding seams
Preparation of welding joints
Smooth grinding of joints

Form

Grinding of inner radii
Fine sanding
Smooth grinding of fillet weld

Vlies

Matting
Microfinishing of different metals
Structuring of metallic surfaces
Removing discoloration

Strip

Rust removal
Cleaning
Removing discoloration
Structuring

Cut
Fiber

Smoothing of welding seams
Flattening of welding seams
Deburring and smooth grinding of joints

Belt

Treatment of hard-to-get-at stair areas
Treatment of hard-to-get-at handrails
Cleaning of tubes and shafts
Removing rust from tubes and shafts
Satin finishing of tubes and shafts

Wing

Deburring of drilled holes
Deburring of tube ends
Internal tube treatment
Satin finish